New Patients at
Advantage Chiropractic Centers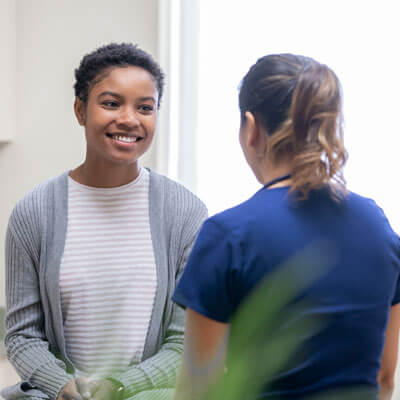 Welcome to Advantage Chiropractic Centers! When you come to our office for the first time, we greet you warmly and make sure you're comfortable. Don't worry, we won't keep you waiting too long. Please allow 45-60 minutes for your visit.
For your convenience, forms are available on our website beforehand. Feel free to print them out and have them filled out in advance of your first visit to save time. If not, no worries, our staff will have forms waiting for you when you arrive. Please bring your ID and insurance cards. On this visit, you may dress in whatever is comfortable for you.
NEW PATIENT FORMS »

The Initial Consultation
When a new patient comes in, they're often surprised at the amount of time we take to discuss their problems. Our doctors will dig deep to ensure they make the best diagnosis, and to also ensure all patients feel heard.
After the consult, we will do an in-depth physical examination. The exam has four parts—the case history, review of systems, orthopedic testing, and range of motion tests. To minimize our patients' exposure to radiation, we only do X-rays and other diagnostics, when necessary, for example, after an automobile accident.
When we have all the results, our doctor will discuss the diagnosis with the patient and create a plan of care. If there is no need for further diagnostics, they will receive the first chiropractic adjustment at this time. Timely diagnosis and timely intervention may lead to a faster healing process.
Financial Discussions
Our staff will attempt to verify insurance immediately and help patients understand their coverage to avoid any surprises. We never pressure patients, your health is always your choice.
We're in network with most major insurance providers: UPMC, Highmark, Aetna, United, and more. We also accept major credit cards, HSA plans, and CareCredit. We never want cost to prevent you from receiving the care you need.
Start Your Health Journey Today!
Contact our office to make an appointment for better health or to reach out to our friendly staff with any questions or concerns. Call today!
CONTACT US »

New Patients at Advantage Chiropractic Centers | (724) 285-7600